Air Conditioning Service, Heating Service & AC Service

Middletown, RI, Newport, RI & Portsmouth, RI

For many homeowners, replacing their heating and cooling system is an unpleasant experience. Breakdowns often happen at the most inopportune times and finding the right contractor can be challenging. Moreover, repairs are expensive and often don't make financial sense on older systems, while replacements can cost thousands of dollars that many homeowners haven't budgeted for.
At Superior Comfort Inc. , we are seeking to improve the homeowner experience by offering a comprehensive, worry-free option for homeowners to replace their HVAC system all for a low monthly payment
Signing Up For The Premier Program Is Simple
And Completed In 4 Easy Steps.

Step 1
Pick Your Comfort System

Step 2
Apply Online With An Instant Decision
Step 3
Schedule Your Installation Date

Step 4
Enjoy Worry-Free Home Comfort All Year Round
Compare The Difference:
Premier Program™ Vs. Other Ways To Upgrade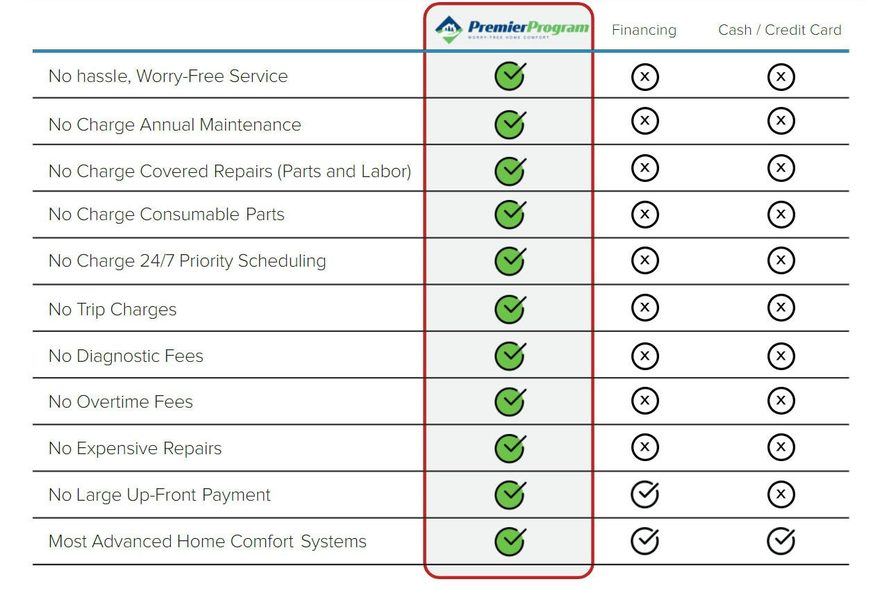 Get the Products You Want Now
Our premier worry-free program has been designed to make it easier for homeowners in Newport, Middletown, Portsmouth, Bristol, Barrington, Jamestown, Warren, Little Compton, North Kingston, and Tiverton, RI, and the surrounding areas to get the HVAC products and accessories they're looking for without having to wait until they've saved enough to buy them outright. If your heating, cooling, or ventilation system needs to be replaced, it's time to act. Get in touch with Superior Comfort Inc. for more details.
With heating and cooling, system replacements continually rising in cost, Superior Comfort Inc. offers homeowners a worry-free service to replace and upgrade their home comfort systems. For a predictable, low monthly payment, homeowners receive the latest energy-efficient equipment, while eliminating the common pain points associated with owning, maintaining, and repairing such systems. The Premier Program® aligns with our company's commitment to advancing sustainability by fostering more rapid replacement of older, inefficient systems, incentivizing consumers to opt for high-efficiency systems and ensuring that such systems are properly maintained.
Serving the Local Community Since 2005
As a family-owned and operated business, we believe in treating others the way we'd like to be treated and taking care of our customers from "A-Z". What's more, we also believe in always being fair, honest, and punctual. Give us a call today to learn more.
HVAC Service

∴

HVAC Repair

∴

Heating Service